We've recently released the August R.F. Meyer & Associates Newsletter,  and it features a wealth of great information about topics very important to many of our clients: Medicare and Medicaid.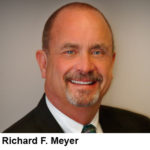 Wondering where your new Medicare card is? Read on.
Ever hear of classifying a transfer of your assets to a child as a loan, complete with a promissory note, to avoid violating Medicaid rules? We have a full article on the practice (It's strictly regulated, so be sure to seek legal advice ahead of time to avoid eligibility problems.)
Hear about the proposed changes to how doctors are reimbursed for care to Medicare patients? See the featured article below on this topic too.
These topics are interesting … and important. We're happy to bring you this information through the newsletter and hope you find our communication efforts valuable.
Click on the below link to open the full newsletter in PDF form.
August 2018 newsletter from R. F. Meyer & Associates
We welcome your feedback!
Please let us know what you think of this blog, the newsletter, our Facebook page or Twitter feed. Just drop a line to Info@ElderLaw.US.
Richard F. Meyer