AARP offers a wide range of excellent resources for families with aging loved ones.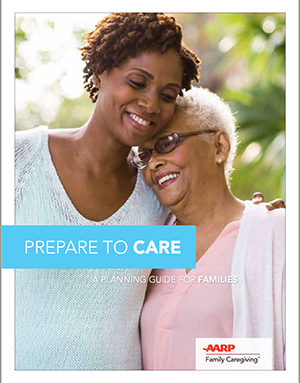 One I really like is the Prepare to Care, A planning guide for families.
I like that is starts with, "Caring for a family member or close friend is one of the most important roles you'll play."
I like that it preps readers for the changing days and years ahead in this task with:
"No matter where you are in the journey of family caregiving — just beginning to anticipate a need, helping coordinate a big move or taking care of a family member full time — having a good framework to help guide you and your loved one will make the process easier."
I think most of all, I like that it stresses the most successful planning puts the needs and wants of the involved person at the center of all considerations:
"The most effective family caregiving plans are made with the person you are caring for at the center of discussion," the guide says.
We at R. F. Meyer & Associates are here to help you on this most important family caregiving journey. We can help you plan and deploy the most advantageous legal tools available. If we can be of assistance, please call us at 614-407-7900, drop a line by email to Info@ElderLaw.US or fill out the Contact Us form on this site at elderlaw.us/contact.
You can check out all the good stuff in the AARP's 36-page Prepare to Care guide at this link: Prepare to Care, A planning guide for families.