At R.F. Meyer & Associates, estate planning is more than simply drafting a Will. We are committed to developing a comprehensive plan to assure that:
Your estate plan is designed to your particular family circumstances.
You and your family are protected should you become permanently disabled.
Your heirs receive the maximum amount of your wealth post mortem, privately and without undue governmental complication.
Estate taxes paid to the state and federal governments are minimized.
Your financial and medical decisions are made by your designee if you are unable to do so.
There are five basic planning documents:
Durable Power of Attorney. This enables you to designate someone to handle your finances if you are seriously injured or disabled.
Durable Power of Attorney for Health Care.  This instrument allows someone to make medical decisions for you in the same circumstances.
Living Will.  This document instructs your family and physician as to your wishes if you are terminally ill or comatose and unable to make your own end of life decisions.
Last Will & Testament.  This instrument appoints an executor to manage your estate, a guardian to "attempt" to manage your minor children, and outlines the general distribution plans of your assets.
Living Trust.  This document is optional. It helps you avoid probate and minimizes or eliminates estate taxes.
Click to learn the:  Top Ten Reasons to Consult an Estate Planning Attorney.
Estate Planning Documents Now Available on Flash Drives! Advanced Directives such as the Living Will and Health Care Power of Attorney are useful only when they are available in emergency health care situations.  We now have the capability of loading these documents onto a key chain flash drive to be utilized by medical personnel in the event of an emergency.  You may wish to load other medical information onto this flash drive such as organ donation wishes, allergy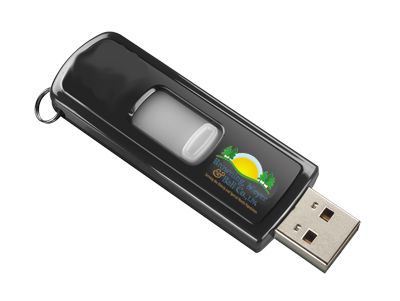 information, lab results, or any other documentation that you believe is necessary for your care.  If you wish, we can also load your other estate planning documents, including your Durable Financial Power of Attorney, Will and Trust, onto this flash drive as password protected documents that only you or anyone that you provide your password to can access.
If you would have any questions or are interested in learning more regarding the establishment of your estate plan, please contact us:
Columbus  614-407-7900 or toll-free 866-883-5337